It was team photo day this week and I – while in heels, trying to be impressive – slipped and fell on the ice in front of all the Steelheads. I love myself.
Welcome back everyone (hi, Mom). Today I'm going to focus mainly on the Blue Jays because I love them and because I have to figure out how I'm going to relay games to you at some point. Once the regular season starts, they'll be playing pretty much everyday of the week and that's a lot of information to include. So I've decided to start my own Spring training.
There's news from other Toronto teams that I'll include as well, but they'll just be quick updates. SO…
Rookie Reviews:
The Blue Jays are gearing up for the regular season
Raptors, TFC, Leafs, Rock
I'm sorry if the jump links don't work. I'm currently trying to figure out what's going on. Until I get it you'll have to suffer the scroll. The "Back to Top" ones work though!
The Blue Jays are gearing up for the regular season
The return of baseball puts a spring in my step. When catchers and pitchers started their own bout of spring training a few weeks ago, I think I let out a day-long squeal of excitement and annoyed everyone around me. It got even louder when the whole team actually started playing on February 23 and I spent a good chunk of time watching the game in the office. Something about baseball just makes me super happy so I've been in a pretty good mood for the past few weeks.
The Blue Jays spend their spring training in Dunedin, Florida. Their games aren't too exciting, they're not really important and not all of the players we'd see during the regular season actually play – at least, not a lot. The purpose of spring training is to warm the team up and get them used to playing again before the season begins. What's fun about spring training, though, is that we get to see the future of the team.
The Blue Jays have many affiliated teams, two of which are the Buffalo Bisons and the Dunedin Blue Jays. Both teams play in their own separate and minor leagues during the year, but the players are essentially training to go pro with the Jays – given they aren't traded to another team.
The Buffalo Bisons are a AAA (triple-A) team, which means they're just one tier under professional status. The Blue Jays will often call up players from the Bisons during their season if they think a player is ready, if a pro player is injured, whatever the case may be. The Dunedin Blue Jays, however, are not quite there yet.
It goes Major League –> AAA –> AA –> Class A-Advanced, which is what the Dunedin Jays are. There are more tiers that follow Class A-Advanced but I'm just going to stop there because that's just too much to get into. These guys are super young – like, 18-24 for the most part – and they spend spring training playing alongside the big boys like Josh Donaldson, Justin Smoak and Kevin Pillar. I just turned 21 and fell in front of teenagers getting drafted to the NHL.
Anyway, spring training is when they all come together to warm up for their season. It only lasts about a month and it doesn't really mean anything, but it's still fun to watch.
Yesterday's game against the Baltimore Orioles ended with a 9-3 win for Toronto, and I'm about to attempt to explain it in the simplest of ways. Pray for me.
A typical baseball game consists of nine innings. Yesterday, Toronto was playing in Sarasota – Baltimore's spring training location – so they were the away team. Your role during the innings depends on whether you're home or away.
Each inning has a top and a bottom – top of the first, bottom of the first, top of the second, bottom of the second, etc. During the top, one team pitches and the other team hits then they switch when the bottom begins. Clearer?
So using yesterday as an example, the Blue Jays were hitting during the top of the innings and pitching during the bottom of the innings. Had we played on our own turf, we would've pitched during the top of the inning and hit during the bottom.
Do you get it?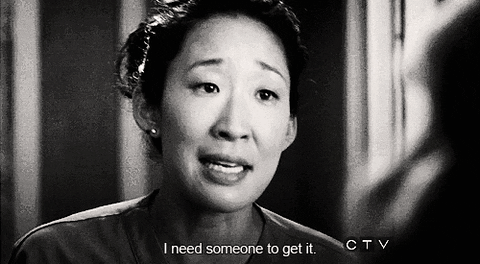 Good.
To move on from either the top to the bottom or the bottom to the next inning, there need to be three outs. Outs happen when a batter gets three strikes; they happen when the ball is hit in the air and someone from the opposing team catches it completely before it hits the ground; they happen when someone running the bases is tagged by an opposing player holding the ball; they happen when someone running can't get to the base they're heading to before the ball does. There are a few other ways players can get out but these are the most commonly seen ones.
Yesterday, we had five batters in the top of the first inning. I won't include their names because it's already a lot of information, so here's what happened. Our first batter grounded out, which means the ball went right to the gound after he hit it and an opposing player was able to pick it up and throw it to first base before our guy could get there. One out.
The second batter did pretty much the same thing. Two outs.
The third batter singled, which means he hit it and was able to run to first base before the other team could get him out. A single means you make it to just one base, therefore a double means two bases and a triple means three.
The fourth batter, we'll call him J, doubled to left field, so he hit the ball and it went all the way to the far left of the field. Not only did J reach second base, the batter that had previously made it to first was able to run home. That means J picked up an RBI, which is a run batted in. He hit the ball and someone was able to score because of it.
Our final batter lined out, which means he hit the ball not too high and not onto the ground and it was caught completely. Three outs and the end of the top.
I won't do a total play-by-play, but there were a couple important plays yesterday that I want to include.
That's Bo Bichette and Vladimir Guerrero Jr., both of whom are 18-year-old Dunedin Blue Jays. They made their debuts yesterday and were both able to contribute to the final score. Bichette ended the game with two hits (was able to get on base) and two RBI, so two (both) of his hits got someone home.
Guerrero Jr. – son of famous baseball player Vladimir Guerrero – ended the game with four hits and two runs, which means he made it to homebase and scored for the team twice. It was a pretty good game for the team as a whole and for our future players.
We're now 6-8 (six wins and eight losses) and we have three straight wins. We'll be playing the Orioles again today at 1:07 p.m., this time in Dunedin. I'm not sure it will be broadcast, but MLB.com has a pretty cool play-by-play generator on their site if you actually want to watch it.
I think that was a long enough feature for a confusing sport. Hopefully you've learned something. There's definitely more to come. Let's move on.
Raptors, TFC, Leafs, Rock
Raptors
We're in the playoffs! Well not yet, but we clinched! I had to ask my dad, but basically the top eight teams in each conference make it to the playoffs. We clinched because the current eighth place team in the East has no way to catch up with us given how many games they're behind and how many games are left. He also said that even if we were to lose every game we play up until the postseason (playoffs), we'd still be ahead of that team. So no matter what, we'd make it to the playoffs.
With Wednesday's win against the Detroit Pistons, the Raptors are now heading to the playoffs for sure. We still have another month before the regular season ends and the playoffs begin, but it's good to know we'll be playing basketball throughout April.
We're still first in the Eastern Conference, now two games ahead of the Boston Celtics. We've also won six straight games and we're 47-17 (wins and losses). We're playing really, really well. Here are Motion Station's YouTube highlights from Wednesday's nailbiter – we went into overtime after being down by as many as 17 points!
We play the Houston Rockets tonight at the Air Canada Centre at 7 p.m.
TFC
Toronto Football Club is back! Not only has the next season of Major League Soccer begun, we're also playing in the CONCACAF Champions League, a league in which the best North American, Central American and Carribean teams compete to qualify for the FIFA Club World Cup. We just won the MLS cup, so we're definitely one of the best at the moment. We also just won the first leg of the quarterfinals and are heading to Mexico next week to play the second.
I always watch these in full before I post them but I think I should stop because I get super emotional, especially if we won the game. I'm not even a huge TFC fan, I just love thousands of people coming together and cheering together and it all just makes me cry. Anyway, we're playing the Tigres again on the 13th but in Mexico! Our next MLS game is the 17th in Montreal against the Impact.
Leafs
Auston Matthews is hurt for a third time this season. He injured his right shoulder during a February 22 game – one that I guess I was sleeping through because I didn't see it happen – and has been out since then. He's been skating on his own and he practiced with the team just a few days ago, but it's unclear when he'll return to the lineup.
That red jersey is a "no contact" jersey which, during a practice, means no one can touch him. That is also the jersey I, myself, would wear during actual games – assuming whatever coach was ballsy enough to take me on actually decided to put me on the ice.
Right now we're in third place, our record is 39-22-7 (wins, losses, overtime losses), we've lost four straight games and we have 85 points, seven behind second place and 13 behind first. The Leafs play the Pittsburgh Pengiuns at home tomorrow at 7 p.m.
Rock
The Toronto Rock lost their last two games, both of which were against the Georgia Swarm. The first – in Georgia – ended 14-13 and the second – at home – ended 12-7. We're third in the East Division with 5-5, which means we're at .500 (remember, as many wins as losses).
Alright. That's it for me. I'll see you when I see you.
Erin.